How to survive air travel with a baby
Flying with children of any age can strike fear into their parents and the other passengers alike.
When you arrive at an airport with babies and children in tow, the dismayed looks on the other passenger's faces says it all – "please don't sit near me". You can almost hear their thoughts and hearts fall into their shoes.
Respect your fellow passengers!
Not everyone appreciates children on planes and that's their prerogative. Not everyone is as enamoured with your darling as you are. Please don't be defensive about this, show them you are aware and sensitive to their feelings by trying your very best to be as unobtrusive as possible. Not easy, I know, but empathy towards others is a Good Thing.
Taking a long flight with children is indeed a trial, but flying with a baby is easy in comparison to flying with children in other age groups. It's when babies become mobile that it gets difficult!
Eat, sleep, cry
The main thing to remember is that babies have three basic modes: eat, sleep and cry.
If you hope for the first two and expect the third, you should be less anxious. Your anxiety won't help anyone, to be frank.
Here are some tips to help you cope with a flight with your baby and alleviate any potential suffering to all passengers, including you and your baby.
16 tips for surviving a flight with a baby
Contact your airline to find out everything you can about how they can help you and your baby have a comfortable flight.
If you can afford it, pay for an extra seat for the baby. You can strap in a forward facing car seat but check that your airline permits this – some even carry their own version. This allows you a little freedom, secure in the knowledge that baby is safe. Alternatively, consider upgrading to at least premium economy seats to give you some extra space to manoeuvre.
If you need a bassinet book it well in advance of your trip as they are limited. The drawback with these is that they are situated on the bulkhead seats which are located next to the toilet, so will not be peaceful.
Carry your baby in a sling as you won't be able to take the pushchair / buggy onto the plane. This will also allow your hands to be free to carry on a bag.
Pack more nappies / diapers than you think you'll need. And lots of wipes.
Include your baby's blanket or sheet for familiarity. The smell will be comforting.
Take several changes of clothes for the baby, and at least one change of clothing for you…
Feed your baby on take-off and landing. A baby's Eustachian tubes are tiny and the change in pressure can cause pain. If it's not time for milk, or your baby refuses to feed, then a bottle of water will help.
If you're breastfeeding, just keep feeding!
If you have a pacifier / dummy, use it! The sucking and comfort it brings will help in all respects.
An overnight flight is easiest, especially if your journey is going to be long. Put night-clothes on your baby as normal and follow any routine you have for getting the baby to sleep. Actually, try anything at all to get baby to sleep! Forget about your own rules for this trip.
Don't expect to get much, if any, sleep yourself, especially if the baby is on your lap. A sling will help.
If your baby is weaned, ensure you have plenty of snacks in your bag to hand out at opportune moments.
Bring a selection of quiet toys – books, puppets etc and a few new ones for extra distraction value. Things to chew and bright or shiny things to look at are all good 'toys'. If nothing else seems to be working, let the baby pull the in-flight magazine to pieces!
One of the trickiest aspects of aeroplane travel with a baby is your own comfort. Going to the toilet while holding a baby is somewhat awkward. Wear clothes you can pull down and up again with one hand!
Eating your meal is also an interesting experience with a baby on your lap. If you are lucky an airline attendant may help you, or a nice fellow passenger, but don't expect it. Take your own easy-to-eat snacks to supplement the meal that will probably end up spilled all over you.
If it all goes horribly wrong and your baby screams throughout the flight regardless of your ministrations, all you can do is apologise to the other passengers and remember, you will probably never see any of them ever again!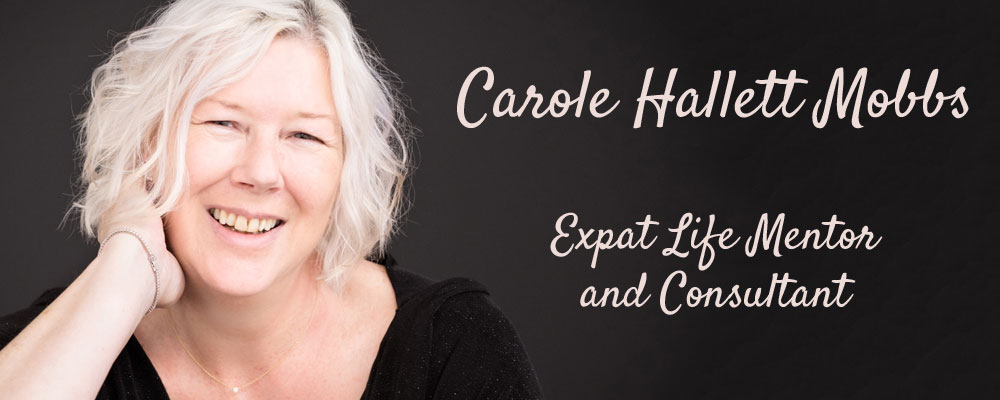 Find out how to prepare for the reality of relocation
I offer one-to-one support and targeted help and advice to help YOU navigate your own expat journey. I can make sure you are well-prepared for expat life. Hop on a FREE call with me to find out more
Let's chat!