HELPING MAKE
EXPAT LIFE
EASY FOR THE WHOLE FAMILY!
WELCOME!
---
ExpatChild makes moving abroad with children easier for all the family with articles sharing expert insight on all aspects of expat life. This site has loads of practical, useful and honest advice for anyone considering a move and life abroad - with or without kids!
Living abroad is like playing a video game where you've skipped the tutorial. Now you're running about with no idea how anything works. Don't panic - I've got the manual.
I'm Carole Hallett Mobbs, an Expat Life Mentor and Consultant who created ExpatChild in 2012. I moved to Japan with my family in 2006 and returned to the UK 12 years later - so I've lived the expat life from end to end!
Dedicated to supporting you with no-nonsense advice for every stage of your expat journey.
YOUR EXPAT JOURNEY
---
Shortcuts to the information and advice you may be looking for on your personal expat journey.
---
INFORMATION
Moving abroad with your children?
---
ExpatChild brings together everything you need to know about moving overseas as a family. From choosing a school overseas to hiring an international removal company and finding friends at your new destination, it's all here - plus so much more.
Moving overseas with kids doesn't have to be stressful. I want your overseas relocation to be trouble-free and happy. I know how overwhelming it can be - because I've done it! And I have written about it and created solutions to help you, every step of the way.
Download a FREE Moving Overseas Checklist!
ADVICE
Tips for a successful expat life
---
What is expat life really like? Expat life is a journey through time zones and emotions. It can be a rollercoaster life at times, especially with children in the mix. Ultimately, it's an incredible way of life and a fabulous experience for families bringing up expat kids.
Let me help you support your children with their expat life to enable them to grow into well-adjusted, global citizens. And if you can't find what you need here, I can help you personally. Just get in touch!
INSIGHT
Expert expat insight
---
There is absolutely no substitute for experience - whether that's expat experience, parenting experience or general life experience. I have the lot. With my family (including pets) I spent 12 years living overseas in Japan, Germany and South Africa. Then we returned to the UK. So, I have seen real expat life from 'both ends'.
Expat life isn't 'Insta-Perfect'. Yes, it's an incredible lifestyle. However, I have seen too many bitterly disappointed people who just can't hack it as their expectations were unrealistic. Sugar-coating expat life doesn't do anyone any favours.
You'll always get the truth from me.
SUPPORT
Real life support that's as individual as you are
---
Every person is different; every move is different and even within the same family, you like and need different things. A cookie-cutter expat life simply does not exist. This is why you shouldn't choose a cookie-cutter adviser to support you through your relocation. Nobody could ever call me 'cookie-cutter'!
I share honest advice with you to help you move smoothly and confidently into your expat adventure. Put my expertise and experience to work for you and you alone. Use my insight into all aspects of life, expat and otherwise, to help you live the life you dream about. Get one-to-one, individualised advice and a fresh perspective on your specific challenges.
LET'S WORK TOGETHER
---
Do you need someone independent and experienced to chat about your potential move and accompanying decisions?
Gain confidence and reassurance that you're making the right choices for you and your family by booking a one-to-one chat with me to talk through your concerns, plans, and anything expat.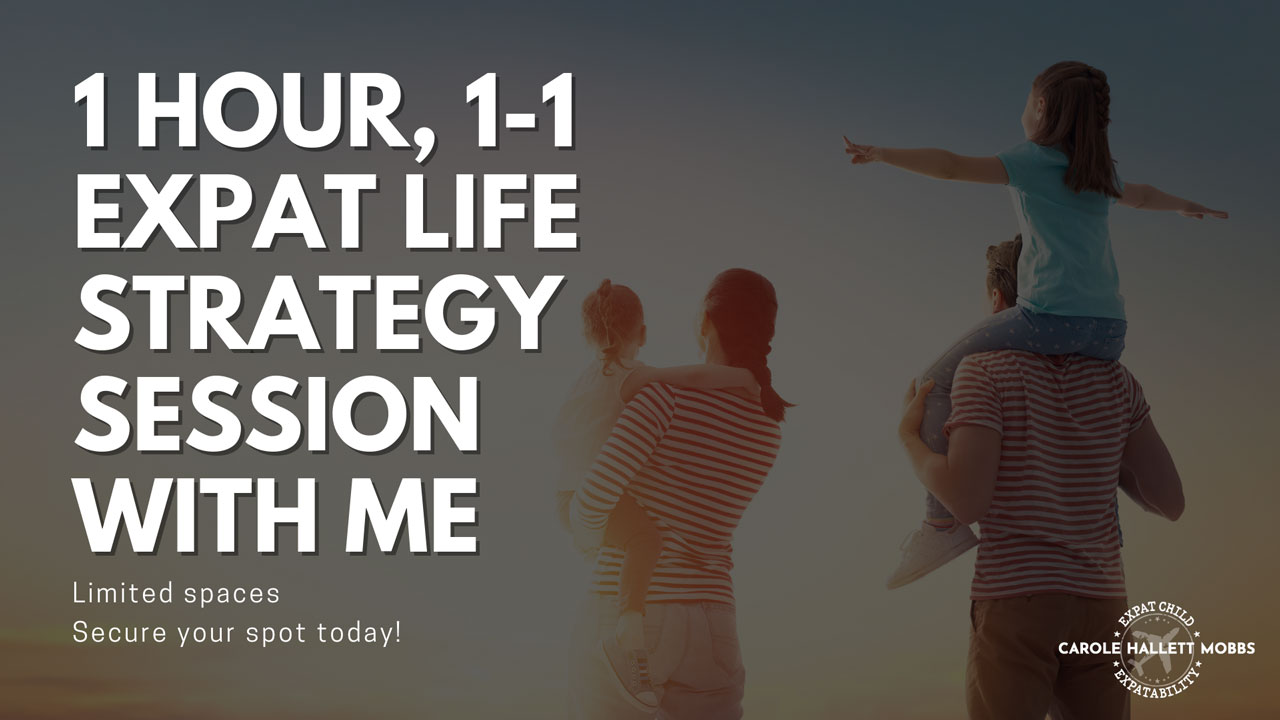 ---
TESTIMONIALS
Some of the lovely words I've received from ExpatChild readers and Expat Espresso clients.
Learn more about Carole
Explore Carole's Expat World!
---
"I would highly recommend contacting Carole"

"I felt very overwhelmed, unsure, lost, scared, worried. The biggest issues I was facing were a long list, having a complex situation I was trying to work through the overwhelm of relocation, removals, education, medical, jobs, housing. Uppermost was the issue of uncertainty; of whether it was the right thing to do or not.

And then I found Carole! I had been searching for an expert to consult with and came across Carole and her websites. I chose to work with her as I listened to her podcasts, read her articles and was impressed by her experience, knowledge, professionalism, and also her down-to-earth, matter-of-fact style, which I resonated with.

After working with Carole, I felt a sense of direction, reassurance, confidence, and connectedness. She helped me with a range of topics we discussed and helped me with contacts, links, direct information, and also her guidebooks and lists, which are invaluable.

If you're feeling overwhelmed, at a loss, in limbo or alternatively know what you want but don't know how or where to start, I would highly recommend contacting Carole. She is approachable, friendly, factual, professional and has a wide range of experience with an abundance of resources. You will not be disappointed."

M. M. - Expat Espresso Client

"Carole is a warm and easy person to speak with"

I was homesick, feeling isolated and missing everyone and everything about London and the UK. Covid made expat life even more difficult in a new country where I was unable to make new connections. I was seriously considering moving back which would have had a massive impact on my family, particularly my children who are teenagers. Carole helped me appreciate that what I was feeling was not unusual, and in fact, was quite common when combining a major international move with a pandemic.

With Carole's personal experience of living overseas in many locations for many years and then returning to the UK she was able to remind me that there are nearly always options. And her honest assessments on the practicalities of moving children of exam school age were invaluable.

Carole is a warm and easy person to speak with. She has tremendous experience in the challenges of living and moving overseas and moving back to the UK. She can give practical insights and to help you think of problems in new ways and potentially see things more objectively.

Brendan - Expat Espresso client

"Pertinent issues"

You always raise such pertinent issues… I wish I had read more of your articles before I went to the US as you provide great perspective for newbies

AMW

Expat Parents Support Group

You are the first 'Expat Thing' I experienced! I told one of your friends I was moving to Saudi and she said I should find you on Facebook! I'm not sure at that stage I'd realised I was going to be an Expat myself and had no idea what I was doing!

I was added to your Facebook group with such a friendly welcome and realised there were thousands of people like me around the world and many had left and never gone home!!

Just Carole's kind and reassuring words and letting me know she or the Facebook community was happy to help if I had any questions was brilliant!! I am now nearly a year into life in Riyadh and always tell people about the group of they are moving on etc!

It really was a milestone joining your group!!

Louise

"Making me feel understood"

Thank you very much for all the information you sent me. I'll check them out!!

I really enjoyed our conversation. Just speaking to you without having to explain my thoughts and feelings was a rare occurrence. This put me at ease straight away, making me feel understood, which allowed me to open up to you easily.

I really appreciated your kind remarks and valuable insights.

I will definitely book another conversation very soon as I have more questions and topics in need of your advice.

A.A - Expat Espresso client

"Appreciation for your great content"

Just more congrats and appreciation for your great content. I wish I'd found you before I had moved over… the resources I found were useless in comparison.

You obviously not only have lived the life, but are very perceptive and analytical with a strong understanding of people.

K

"Carole was a balm to my feelings"

The year is 2020 and the Covid-19 pandemic is doing its rounds around the world and taking my chosen country to live in pretty harshly.

It's just me, my 9 y.o daughter and her father - and I was suffocating. Why? Because I am here by choice and that brings such a heaviness to my heart that the only way to explain is "Am I going to see this thru?" "Am I going to survive?" If not in the real sense, but in the emotional sense of it.

In order to cope, I booked myself in to an Expat Espresso meeting with Carole; someone who has always been there for me even though she didn't even know I existed.

Sometimes, the only thing we need, is someone to mirror our feelings back at us, feed us those things that are at the back of our minds but at the same time we don't know yet.

Carole was a balm to my feelings, a calm and soothing voice that nailed 5 of my major struggles without me actually saying them out aloud. How does she even do that?

That was exactly what I needed and now I am actually googling some stuff and reading more about it and I can feel those knots of anxiety losing themselves by the minute.

If you are like me, an expat navigating these weird times and you can put an hour to talk to Carole, I urge you to do so.

Karina - Expat Espresso client

"Experienced counsel"

Hi Carole,

Thanks so very much for the call and it was so helpful to get your experienced counsel on this topic!

Indeed, the experience, tips and solutions which you shared are looking as very positive steps to take. I'll start implementing a few of those right away.

S.K. - Expat Espresso client
---
About
---
ExpatChild makes moving abroad with children easier for all the family with articles sharing expert insight on all aspects of expat life. This site has loads of practical, useful and honest advice for anyone considering a move and life overseas.
Carole Hallett Mobbs is an Expat Life Mentor and Consultant who created ExpatChild in 2012. She would love to support you with personalised, no-nonsense advice for every stage of your expat journey. Make sure you have your best life overseas!