---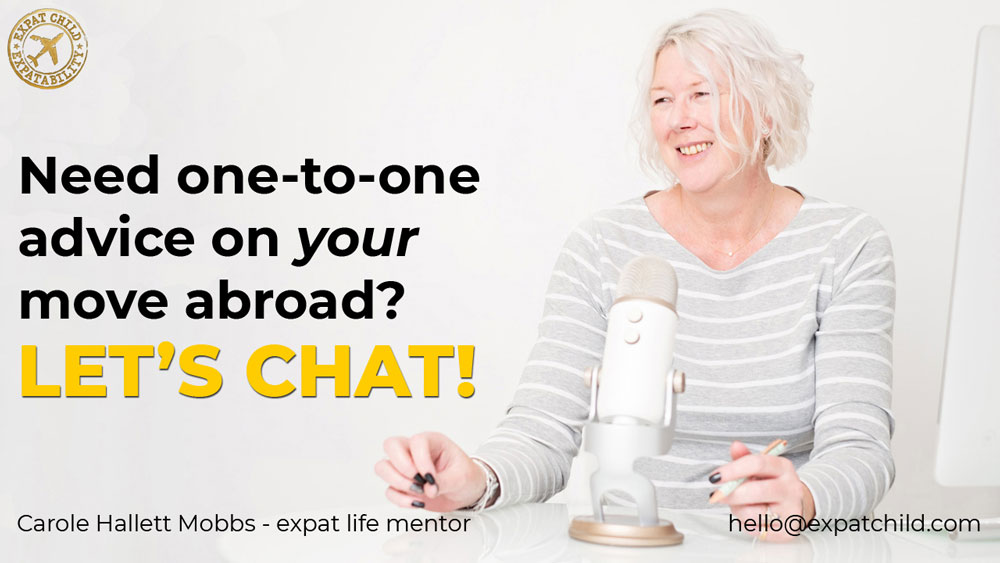 Planning a Move Overseas?
Need help to decide if a move abroad is right for you? Or perhaps you have some 'expat stuff' you'd like to talk over with someone who completely understands you?
Let's talk about it!
I help people, just like you, brainstorm your important decisions so that you gain clarity, reassurance and peace of mind that you're making confident choices for you and your family.
Book a call today
"I was completely overwhelmed. The decision between choosing a local school and an international school is complicated, especially as when you don't know where you will go next. As an expat, I had heard many different opinions, but really needed someone to be frank and someone that had similar expat experiences.
Carole reassured me that what I'm doing is what is the best option for my kids. She also gave me very valuable tips that I had not thought about.
I have already recommended her to a friend as a good person to contact before making another international move, or if you needed an unbiased opinion outside your family on issues related to expat life."
KRYSTAL P - Expat Espresso Client
"I was homesick, feeling isolated and missing everyone and everything about London and the UK. Covid made expat life even more difficult in a new country where I was unable to make new connections.
With Carole's personal experience of living overseas in many locations for many years and then returning to the UK she was able to remind me that there are nearly always options. And her honest assessments on the practicalities of moving children of exam school age were invaluable.
Carole is a warm and easy person to speak with. She has tremendous experience in the challenges of living and moving overseas and moving back to the UK. She can give practical insights and to help you think of problems in new ways and potentially see things more objectively."
BRENDAN S - Expat Espresso Client
"Thank you very much for the Information you sent me. I will check them out!!
I really enjoyed our conversation. Just speaking to you without having to explain my thoughts and feelings was a rare occurrence. This put me at ease straight away, making me feel understood, which allowed me to open up to you easily.
I really appreciated your kind remarks and valuable insights.
I will definitely book another conversation very soon as I have more questions and topics for your advice."
ALAN A - Expat Espresso Client
Get personalised advice for every stage of your expat journey
If you have a business targeting expats and would like to be featured here on ExpatChild, or on The Expat Directory, please check out this page where you can download my media pack.
About
---
ExpatChild makes moving abroad with children easier for all the family with articles sharing expert insight on all aspects of expat life. This site has loads of practical, useful and honest advice for anyone considering a move and life overseas.
Carole Hallett Mobbs is an Expat Life Mentor and Consultant who created ExpatChild in 2012. She would love to support you with personalised, no-nonsense advice for every stage of your expat journey. Make sure you have your best life overseas!