Find a removal company for your move abroad
Moving overseas isn't quite the same as moving house in the same country (understatement!). For a start there's this big, wet area called 'the sea' to cross…
International transport options for moving your worldly goods are by sea, road or air; or a combination of all three.
If you are moving to another continent the bulk of your possessions will travel to your new home by container ship. This slow voyage means that you are without most of your belongings for quite some time. Depending on where you're heading this could be about two months, possibly more.
Air freight is expensive and is charged by weight and volume. However, it may be worth sending a few items this way so they arrive before your shipment. This is not guaranteed though – as you can see from my personal experience.
Sending all your possessions by road is only really feasible if you're moving within one continent!
Choosing a removal company
You need to find a removal company who is professional and organised at assisting international relocations.
If you are not on a relocation package that includes the services of a specific removal company, you'll need to find your own. Here are some pointers to help you make this decision.
Plan ahead
Start researching as soon as you know you are moving overseas as the process can take time. Once you start asking for quotes, you may be given an estimate first. To get a true, accurate quote, the company needs to send an assessor to your home to calculate precisely how much needs to be packed. If you're getting several quotes, this process alone will take time.
Try this excellent tool for FREE quotes…
Shop around
For peace of mind, choose a company that belongs to one of these two associations as they are bound by codes of conduct: The British Association of Removers or The National Guild of Removers and Storers.
Get in touch with at least three removal companies for quotes. What you are looking for is confidence in their abilities, professionalism, friendliness and efficiency. Find out what their services include.
Get recommendations
The best way to choose a removal company is to have friends and colleagues recommend one. If this isn't possible, go with your instincts. You will be trusting all your worldly goods to these people, so you need to have confidence in them.
Insurance
A good removal company includes insurance to cover against loss or damage during transit, so ensure this is included before making your booking. It's also wise to contact your own home contents insurer to find out if your policy will cover your contents while they are being packed.
Don't pack it yourself
Consider choosing a removal company that includes a packing service. It's not too expensive and can save a huge amount of stress, time and energy that's best spent elsewhere. Insurance is often cheaper if the company packs your items themselves. Plus they are professional packers and can squeeze far more into a box than you can. It's quite something to watch!
While it's quite daunting watching strangers move through your home with the speed and alacrity of locusts, it's well worth it in the long run. There are a few pointers to take into account with this, and I've written about our own experiences in this post. Other interesting and funny mishaps are shown here too!
Customs and delivery to your new home
Your chosen removal company will have contacts at all destinations and will deal with the customs clearance for you. Once everything has cleared customs, your goods will either be placed into temporary storage or delivered to your new home.
To sum up
Plan a long way ahead.
Get several quotes.
Choose an accredited company from the website links above.
Ask for with personal recommendations or your go with your instinct.
Insurance is vital.
Choose a professional packing service if at all possible.
To make your overseas relocation as smooth and hassle-free as possible, plan every step with care. Rely on your removal company to take as much of the inevitable stress away from you. They are the experts and can advise you on any specific questions you may have.
And now here are some resources to help you plan your packing: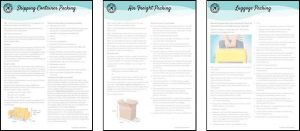 Packing lists
A handy set of lists, tips and advice for organising your packing for a move abroad.
Comprising three sections:
Shipping container packing tips and advice
Air freight packing list and ideas
What to take in your luggage. Tips and advice for packing the suitcases you take on the plane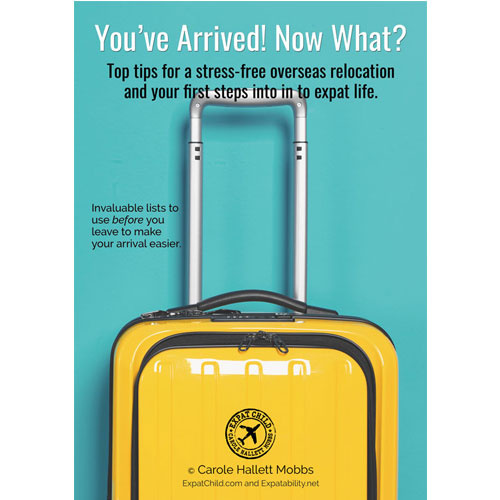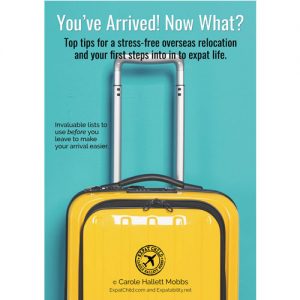 Arrival eBook with packing lists to ensure a smooth arrival