Expat education
An Expat's Guide to Choosing a School Overseas is an absolute must-read if you're moving overseas with children.
Choosing the right school for your child is one of the hardest decisions you'll make as an expat parent. It's a complex decision based on so many factors.
My new book, 'Expat Education: An Expat's Guide to Choosing a School Overseas' explores these aspects to make the decision easier for you and shares how to make your child's move into their new school, in a new country, a less stressful one.
Do you choose an international school or a local school? Read more onsite here.
Which international school system? Read more onsite here.
Will the language barrier be too much if you choose a local school? Read more onsite here.
Perhaps home-schooling would be better all round? But did you know that home education is illegal in some countries? Read more onsite here.
What about your child's future? Will you be moving back home at some point, or will you be moving to another country? Do you even know yet?! Read more onsite here.
And then add into the mix that children are individuals with different needs and personalities – even within the same family. There certainly isn't one-size-fits-all education option for expat children. Each child is different and each country's school system is different, even within the 'generic' international schools. Also, families differ in their requirements and aspirations, and even relocations vary greatly. What worked well for you all in one country won't necessarily be replicated in your next move.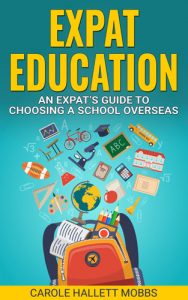 It's easy to get very stressed at this point. Don't panic! I've put together this book to help you kick-start your search for the best type of school for your child.
There are many considerations and details you need to brainstorm, so I've detailed them in this book for you. I have also included a list of questions you may find useful to ask when you have narrowed down your school choice. You'll get a great insight into just what is involved in making the right choice for your family.
Discover the different education options available for your expat life and identify how to choose the right one for your child – and you! Packed with tips on what to consider before you decide, how to choose the best school for your family, language learning advice and inciteful interviews from other expat parents.
Choosing a school for your expat child can be a trial and it all boils down to a very personal decision. A decision that, as parents, we can only hope is for the best.
THE definitive guide on choosing a school abroad for expats moving with their children is available on your local Amazon now in paperback and Kindle format.
Find your copy here:-
And if you want instant access to the key points you need to know right now, check out my abridged version eBook right here!