How to find a school overseas
Expert information and tips for making education choices abroad.
Education is often the forgotten factor in expat relocation. However, 60% of relocations involve children, and education – finding the right nursery, school or university – is often the major 'deal breaker'. Our expert consultants at Nursery, School and University levels provide you with tips and advice for finding the perfect educational institution for your child wherever you are:
Early years and nursery choice

It is now commonly acknowledged that education choices made in the Early Years are as crucial as those made at primary and secondary level. The foundations of independence, confidence and the willingness to learn are installed in these years. You should research the nursery options in your area immediately upon your arrival.
Your search should include:
Visiting the nursery, and meeting the head teacher, rather than relying on brochures or reviews.
Keeping the nursery local – or within walking distance – as the fresh air and calming morning routine will increase your child's concentration levels for the rest of the day.
Checking outdoor provision to discover how many hours a day nurseries provide children with the space and opportunity to develop their vital gross motor skills.
Asking about bilingual or multi-lingual support, where the national language and your family's native language differ.
School Search

Choosing the right school is vital in preparing for further study at university level or for future employment. Whether it is the academic demands, the extra-curricular potential or the general ethos of the school, ensuring your child is in an environment where they are allowed to flourish gives them the start in life that opens a world of opportunity. This is particularly relevant when moving abroad, as achieving educational continuity is vital.
Your search should include:
Checking the academic curricula followed: is it a national or international curriculum? How does that compare to the curricula your child has studied up until now (if applicable)?
Ensuring there is sufficient extra-curricular provision to further your child's skills and passions: for example, sport, music, art, drama and dance.
Making sure that there are provisions for bilingual support if your child does not yet speak the local language or dialect.
Remember to plan for the whole family – if you have a son and daughter, perhaps a co-educational school may be best for both?
University Application
University education, at undergraduate or postgraduate level, is an experience that should be cherished and planned for carefully so as to extract the maximum potential for your child's future life. It is an increasingly global trend for students to go to school and perhaps complete an undergraduate degree in one country, before studying at postgraduate level abroad. Therefore, international university study is far more common, and much easier to plan for.
Your search should include:
Ensuring that application deadlines are met: most universities often demand application at least half a year before entry.
Making sure that the choice of subject area and specific course exactly matches your child's desires and interests.
Researching the city and the surrounding area, to see how that might support your study. For example, a collection of concert halls is likely to engender a rewarding and cultural environment.
Investigating what bursaries or scholarships may be available exclusively for international students.
Whether you are either new to or established in your country, and wherever that country might be, we hope that our consultants have been able to provide you with something to bear in mind when making those crucial educational and familial decisions.
Sponsored article by Holland Park Tuition and Education Consultants

William Stadlen and Sabine Hook are expert consultants at Holland Park Tuition and Education Consultants . For more information – or for how Holland Park can help with your choice of nursery, school or university, provide a course of private tuition, home schooling or any other matter of educational support – please do not hesitate to contact one of our offices in London or Dubai.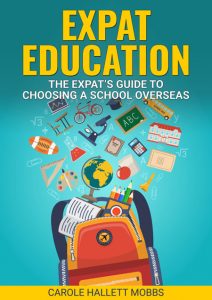 Choosing the right school for your child is one of the hardest decisions you'll make as an expat parent when moving abroad. There are many education options around for expats, and so much depends on your individual family set-up and child that there is no 'one-school-fits-all' solution. Each child is different and each country's school system is different, even within the 'generic' international schools. Also, families differ in their requirements and aspirations, and even relocations vary greatly. What worked well for you all in one country won't necessarily be replicated in your next move.
It's easy to get very stressed at this point. Don't panic! I've put together this book to help you kick-start your search for the best type of school for your child. Now available on your local Amazon.
Buy from Amazon UK
More detail on the book