Can you take your pet when you move abroad?
Moving overseas with your pets isn't as difficult as you might think. Unless there are concrete reasons why your pet can't move with you, it's something you should really consider. Children who have pets settle into their new home quicker if their beloved pet comes too. The loss of that pet can be absolutely devastating. People who, as children, moved overseas without their treasured pet report being utterly distraught at leaving them and some never forgave their parents for the decision.
Pets are family too!
Unless your pet is old and/or sick, or the country you're moving to is inhospitable to your pet, there are few reasons for not taking your pet overseas with you.
Your destination's climate and possible quarantine regulations may have some bearing on your choice so make sure you have researched thoroughly. If you do have to make the difficult decision not to take your pet with you, make sure you discuss the situation appropriately with your child to help alleviate the potential problems mentioned above.
Taking your pet overseas
Don't underestimate the mountain of bureaucracy that comes with moving animals overseas.
Procedures are different for every country of origin and destination so do your homework in plenty of time. As a general rule you need to sort out import and export permits, vaccinations, special crates for the airline, veterinary visits and lots of paperwork. Certain destinations have more rigorous rules than others; it can be a minefield. For this, and many other reasons, I recommend using a specialist pet relocation company.
Use a pet relocation agent
As moving house is a busy and stressful time, I can highly recommend employing a specialist pet relocation agent to help you out with moving your pet. They are the experts and know all the rules and regulations relating to the different countries and it is well worth spending the money to ensure your pet is in good hands.
The advice and assistance you receive from a good pet relocation company eases so much stress at this difficult time. They can liaise with airlines on your behalf and some even deliver your pet to the door of your new home.
I've moved across the world and back with pets, and each time the assistance I've received from these professionals has been invaluable. I can personally recommend these lovely people.
Veterinary checks
As soon as you know when you'll be moving, contact your vet to make sure all vaccinations are up to date. Some have to be done at specific dates prior to the move, so make a schedule and stick rigidly to it. If you're even one day late or early, this can impact negatively on your pet's move.
You should also have your pet completely checked over to ensure it is fit to travel by air. Some dog breeds don't travel well; particularly short-snouted dogs such as bulldogs and pugs, due to their respiratory problems. Take professional advice.
I can't emphasise enough how important this thorough health check is: I moved from the UK to Japan with two beautiful cats, Inti and Raymi. Within a week of our arrival, Inti collapsed and had to be put to sleep due to a devastating blood clot. It turned out my vet in the UK had not actually performed a complete health check, yet Inti was declared fit to fly. Post-mortem, I was told my cat had a heart condition (hypertrophic cardiomyopathy) that could easily have been picked up if properly checked. The vets in Japan were horrified he had been passed as fit to fly. Knowing this in advance would have saved a lot of distress for both the cat and our family.
Airline regulations for pet travel
Research the various airlines for their pet relocation options as they all seem to have different regulations. Once you have decided on an airline, check the details for the crate your pet will need. Again, every airline has slightly different rules, but basically the crate needs to comply with airline and government regulations and be the correct size for your pet. The crate should be large enough for your pet to stand, sit and lie down in a natural, comfortable position. Get this part wrong and you may face the shock of your pet not being allowed on the plane. Yes, this can happen, so make sure you get the right crate.
Get the crate in good time, so you can train your pet to feel comfortable in it long before the flight.
Identification of your pet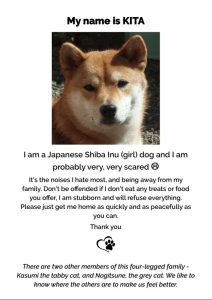 Make sure your pet has a microchip, collar and ID tag and their name and details are clearly marked on the crate. Include the pet's name, your name, the destination address and a telephone number. I create a sheet of paper telling any handlers what to expect with each pet. Something like this…
Make up a file to carry with you containing copies of all the paperwork; vaccination certificates and microchip number. It may also be useful to include a photo of your pet, details of its species, breed, colour, and size. Keep a note of any relevant contact details, such as your vet and your pet relocation agent.
Keep copies online too – forever. I had quite a job finding my dog's original rabies vaccination certificate for our last move. Rules change and countries have different requirements. Thankfully, I found the original, Japanese certificate in order for the South African and UK export and import requirements.
You can meet my furry family here. I couldn't imagine moving anywhere without them.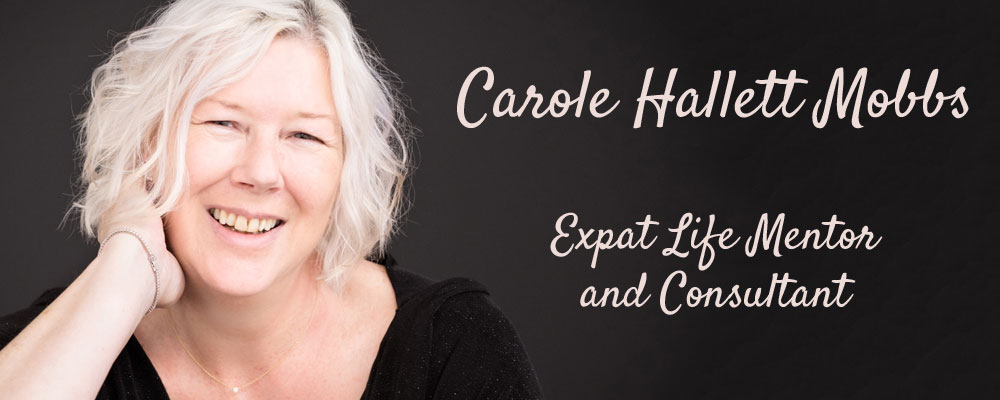 I can help YOU with YOUR move abroad
I've moved with various pets, all went very well! I can help you. I offer one-to-one support and targeted help and advice to help you navigate your own expat journey. I can make sure you are ALL well-prepared for expat life.
Let's chat
First published: 18th May 2014
Updated: 18th May 2019