Home schooling has become an increasingly popular option
Holland Park's Tuition Manager and Lead Home Schooling Programmer, Chloe Godsell, writes of the increasing prevalence of flexible home schooling.
Home Schooling is becoming increasingly popular in the UK and around the world. With a number of flexible options, home schooling has come to be viewed as a practical educational solution to a variety of domestic situations. In the UK alone, for example, it is estimated that over 50,000 children enjoy home education to some extent, with that figure rising by 80% each year. However, the form that each programme of home schooling might take has begun to diversify, with short-term as well as long-term solutions becoming ever more popular.
Home Schooling has usually been considered as the major alternative to traditional schooling. A well-crafted programme of home schooling is legal in the UK and in most other countries, often merely requiring approval by the local education authority and, where appropriate, the school. The presence of committed education professionals, such as a private tutor or a team of tutors, will certainly maximise your chances of approval.
However, modern home schooling is not simply a fixed and permanent alternative to more traditional school education. For example, 'Flexi Schooling' has become a recent and popular trend in the UK. This involves a day or two of home schooling making up part of a traditional school week, again usually subject to agreement of the school and the local education authority.
Home Schooling can also be highly effective as a tool to aid educational transition – for example, when:
Moving between schools
Moving between school levels – nursery, pre-prep, prep, junior, senior, secondary or sixth form – or in advance of university
Moving between curricula (for example, from International Baccalaureate to English GCSEs or A-Levels)
Moving between countries
Moving between continents
The child is better than an independent learner
The child has special education needs (SEN) best catered for outside of the classroom
A flexible and comprehensive programme of home schooling can ensure that your child's transition from one educational system to another is as smooth as possible, providing minimal educational disruption.
There are clear benefits to home schooling – and, indeed, private tuition – compared to teaching in the classroom environment. For example, the individual focus upon the child ensures that their specific concerns are addressed and targeted immediately with tailored courses of tuition. For certain children, being in an atmosphere that is comfortable, familiar and secure can allow them to forge a bond of trust with the private tutor or tutors, therefore making rapid and uninhibited progress.
Whether a child is moving between schools, moving educational curricula or relocating, a flexible and bespoke programme of home schooling places maximum focus upon the educational needs of the child, encouraging them to develop in a swift, confident and happy manner.
Sponsored article by Holland Park Tuition and Education Consultants

Chloe Godsell is Tuition Manager and Lead Home Schooling Programmer at Holland Park Tuition & Education Consultants. From offices in London and Dubai, Holland Park recommend carefully planned, complete and bespoke programmes of home schooling for a month, two months, six months, year or a number of years, anywhere around the world.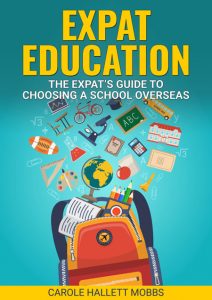 Choosing the right school for your child is one of the hardest decisions you'll make as an expat parent when moving abroad. There are many education options around for expats, and so much depends on your individual family set-up and child that there is no 'one-school-fits-all' solution. Each child is different and each country's school system is different, even within the 'generic' international schools. Also, families differ in their requirements and aspirations, and even relocations vary greatly. What worked well for you all in one country won't necessarily be replicated in your next move.
It's easy to get very stressed at this point. Don't panic! I've put together this book to help you kick-start your search for the best type of school for your child. Now available on your local Amazon.
[x_button shape="rounded" size="regular" float="none" href="https://www.amazon.co.uk/Expat-Education-Expats-Choosing-Overseas/dp/1794381767″ target="blank" info="none" info_place="top" info_trigger="hover"]Buy from Amazon[/x_button]
[x_button shape="rounded" size="regular" float="none" href="http://expatchild.com/an-expats-guide-to-choosing-a-school-overseas/" target="blank" info="none" info_place="top" info_trigger="hover"]More detail on the book[/x_button]