Business class travel with children
A highly coveted perk among airline families – the holy grail for many, I know – is being able to travel in business class with small children. Yes, your whole tribe, seated at the front of the aircraft, or up top in the case of the superjumbo – with acres of leg-room, fine dining and the chance for some mummy respite in the A380′s on-board bar.
This story was told to me by a fellow pilot's wife and I'm repeating it here because the incident not only makes me hoot with laughter, but (and I know she won't mind me telling you this) it was probably THE most embarrassing mummy moment of her entire nine years of motherhood. I think we can all relate, wherever we sit on the aircraft…
And then the day was finally upon us, and we could book seats for both myself and my small children in the business class cabin of the airplane taking us home.
Business class travel is indeed very special. The cabin itself seems to sparkle and twinkle with just enough 'specialness' to make anyone smile. But it's the space that's the real bonus. Not just the extra-large seats, or the super-big TV screens, there just seems to be enough space around you and your family to be able to settle in comfortably.
And settle in we did; the pillows a little softer, the blankets a little fluffier. I soon had both of my children cocooned into balls of happiness; DS happy to explore the myriad of games and cartoons on offer, DD's little hands searching out all the extra buttons and switches not previously discovered on any seat before.
'What's this Mummy?' she asked as she picked up the console that tucks neatly into a pocket on the arm of her seat.
'Well, you can call the attendant by pushing a button here,' I explain, 'But wait, if you press here your seat will give you a massage.' Peels of delight ensue from DD, already a disciple of the body rub, as she tries out all the different ways she could make her seat tickle and shudder. Was this not heaven? If I have a predictable difficult period with my daughter on flights it's right at the beginning, getting her to settle down. But, thanks to the wonders of the juddering seat, we're looking like the perfect family unit and I'm sipping champagne …
During our summer stay, the kids were quick to tell everyone about their trip in business class. 'Oh!….how lovely' was the response as most pictured these tiny dots sipping wine and eating caviar – and I would watch as their eyebrows disappeared up into their hair lines.
'And what was the thing you liked best about travelling in business class?' they'd ask.
'The computer games,' was DS's stalwart response. The games are the same, incidentally, wherever you sit on the aircraft.
'The massage button!' squealed DD, 'I had a massage all the way from Dubai to England!' Now, this was altogether more like the example of over-indulgence that many were on the lookout for. So on several occasions during our stay, DD was encouraged to repeat the story of the seat that gave her a massage and how she was going to have one all the way back to Dubai too.
On our trip home, as we board through doors at the very front of the aircraft, I immediately see that we are travelling in an older plane than the one in which we arrived. Characteristically stoic, DS flops down in to his ample seating, grabs the control and settles down for the long flight. Not so DD.
'Oh no, Mummy. This is not right!' She picks at the cover placed over the arm of her seat until it comes away in her hand only to reveal the arm of the chair.
'But where is the thing? Where is the massage button? I can't see it!' Her lip beginning to tremble just as the gangways either side of us fill up with slow moving – hmm, yes, now stationary – economy passengers queuing quietly to get to their seats. I sense the impending storm…
'Why don't we see what film we can find for you to watch, or maybe a game to play… ?' My powers of deflection moving up into overdrive instantaneously. 'Hey, do you want to look at my magazine… ? Have that chocolate bar I bought in the coffee shop just now….. how about my entire handbag? Here, take it. Take a good look……!' But it was all in vain…
'But I want a massage!' DD cries, literally cries. Huge tears rolling down her cheeks as her whole body begins to heave. All eyes are on us. 'It's alright darling,' I croon, pulling her tiny frame on to my lap, 'It's not the end of the world. There really are worse things that can happen.'
'But it is!" she cries, 'It is the end of the world! I don't want to be on this plane. I want to get off this plane right now and get on one where I sit in a seat that GIVES ME A MASSAGE!'
Powerless to stop her, I resorted to putting my hand over her mouth in an attempt to muffle what she was actually saying.
Thank heavens for the crew member (who has probably seen it all). 'Champagne madam?' she smiles, 'Or is that a very large white wine?'
Republished with kind permission of Marianne via Flying with kids: Risky business | Circles in the Sand.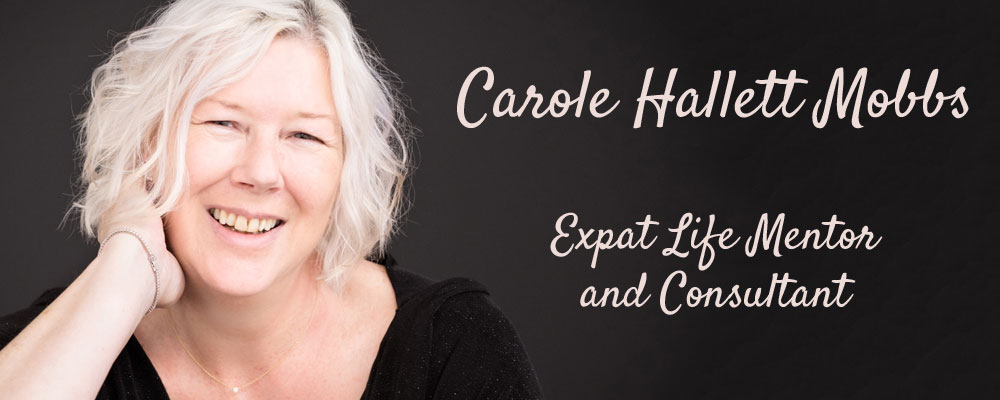 I can help YOU with YOUR move abroad
I offer one-to-one support and targeted help and advice to help YOU navigate your own expat journey. I can make sure you are well-prepared for expat life. Hop on a FREE call with me to find out more
Let's chat!