Keeping in touch with boarders
Enrolling your child in a boarding school is a huge and heart wrenching decision and not one that you took lightly. Once made you'll feel confident your motives were the right ones; you want the undeniable benefits the school will bring your child. You also know that not being there to mop up tears, to help with homework, resolve daily crises and talk about boys, or girls, is going to be the hardest thing you've ever done in your life. But you are doing this for your child's best future.
For expat parents, boarding school is often the best, and sometimes only, option available. Schools in our new country may be failing our children in many ways. Perhaps they are of an age where they need a good, solid education in their home country due to looming exams and higher education options. Alternatively, you may have to move so often your child's continuity of education would be severely compromised.
One of the biggest challenges faced by parents of a boarder is keeping in touch in the 'right' way. Staying connected to your child at boarding school when the daily distance between you is measured in miles, rather than by which room they choose to be in can be difficult to come to terms with. But it's perfectly possible.
Is there a right or wrong way to keep in touch? We thought it might help if we shared some of our experience and observations with you, from families with children in boarding schools in their home country.
What's the school's policy?
This is one of the most important considerations when it comes to keeping in touch. Does the school allow mobile phones? Will the children only have access to them on certain days and times? Will they have email? Is there a parent/teacher website to allow you to keep in touch with your child's tutors and receive regular progress reports?
Most boarding schools have an internet 'parent portal'. Here, the school may share photos and videos of activities your child participates in, with regular updates on what the children have been up to. And of course to share reports and results with individual parents. This will mean you can find out how your child is getting on rather than relying on the (perhaps biased) report of your child. Most schools also allow mobile technology and there is ample opportunity for the children to make and receive calls, although this will generally be restricted to evenings and weekends to avoid disrupting lessons.
How often should I call?
In your head, calling your child frequently or sending them plenty of text messages is reassuring. You're showing that you're there for them regardless of the distance. With modern technology there really isn't much difference between a different country and a different room of the same house. So what's wrong with that?
Nothing; as long as you understand your motivation. Are you doing it to reassure your child or to reassure yourself? Children that live with their parents in the same house often become less communicative as teenagers; conversations become restricted to the occasional grunt of assent when you ask them to pass the salt at dinner. And oh… the attitude! This is a natural part of growing up and distancing themselves from the parental umbrella. Boarding schools accelerate the process of independence – and reduce the attitude by fostering respect and appreciation! Frequent calls from well-meaning parents may inhibit that process and make them less inclined to spread their wings or could just be irritating. You will actually find your relationship with your teenager will be more mature and comfortable with this 'restricted' contact. Grunts don't really happen when you're not in contact 24/7!
With some kids, frequent contact with their parents can make the settling in period difficult for them, and can emphasise homesickness. For this reason, some schools forbid contact between parent and child for a week or two after the child has joined. Make sure you know the rules before you join so you can reassure your child – and yourself.
Agree with your child that you'll call them once or twice a week, at a set time – but make it clear that they can call you at any time and that you'll always be there ready to listen.
What if my child is homesick?
If you have a child who's finding it difficult to settle into boarding school, then calling them all the time might be the worst thing you can do. A child who is feeling homesick will allow that feeling to be fed and nurtured by frequent phone calls; a reminder of exactly what they're missing. Given space and time the child will quickly learn to rely on peers and teaching staff for support and the homesickness will start to dissipate.
Build a relationship with their house master or mistress, and discuss any concerns you have with them in the first instance. You will undoubtedly find that there are fewer problems than you think.
It's like when they go to nursery for the first time: lots of tears in front of Mum, then as soon as you've gone, they tootle off and play perfectly happily with their mates. Older kids / teens offload to you on the phone, then go off quite happily having forgotten their angst, leaving you in a right old mess! Put your mind at rest by talking to the house master/ mistress.
What else can I do?
There are lots of little ways of showing your child you are thinking of them without inundating them with calls or messages. For example, I always sent a cheery email with a funny or cute picture for her to receive first thing in the morning.
Think about little gifts they might like, order them online and have them sent direct to the school. Amazon is absolutely ideal for this. We had great fun with funky stationery, magic tricks and games to play with their friends. Interesting newspaper clippings, small posters of their current favourite person, magazines, books, are all perfect ways to demonstrate you are thinking of them. Just make sure nothing is too large or bulky as it all has to come back home to you at the end of term…

Get a supply of postcards and post one a week. Your child will use them to decorate their personal dorm area. Polish your letter writing skills and send a good old fashioned snail mail. Include some photos, again to decorate their dorm wall, which is quite 'the thing'. Even if they don't respond in kind you'll know it made them happy to receive post.
When you are feeling sad about missing them, keep in mind the reason you sent your child to boarding school. The school has great results, great reviews and turns out independent and high achieving young people. You have done the right thing for your child.
Boarding schools are experienced when it comes to coping with a whole range of adolescent problems; trust the school and trust yourself to have made the right decision.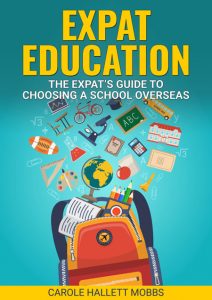 Choosing the right school for your child is one of the hardest decisions you'll make as an expat parent when moving abroad. There are many education options around for expats, and so much depends on your individual family set-up and child that there is no 'one-school-fits-all' solution. Each child is different and each country's school system is different, even within the 'generic' international schools. Also, families differ in their requirements and aspirations, and even relocations vary greatly. What worked well for you all in one country won't necessarily be replicated in your next move.
It's easy to get very stressed at this point. Don't panic! I've put together this book to help you kick-start your search for the best type of school for your child. Now available on your local Amazon.
[x_button shape="rounded" size="regular" float="none" href="https://www.amazon.co.uk/Expat-Education-Expats-Choosing-Overseas-ebook/dp/B07L9J8C17″ target="blank" info="none" info_place="top" info_trigger="hover"]Buy from Amazon UK[/x_button]
[x_button shape="rounded" size="regular" float="none" href="http://expatchild.com/an-expats-guide-to-choosing-a-school-overseas/" target="blank" info="none" info_place="top" info_trigger="hover"]More detail on the book[/x_button]