Why expats must consider travel insurance
You're living in a new country, which has opened up all kinds of new places to explore on your vacations. It's all so exciting! But, let's be honest, you've likely asked yourself more than once if you really need travel insurance for your vacations.
Maybe you think that the chances of needing travel insurance are slim, so you skip it. You're careful, you don't take unreasonable risks and you've had many, many trips before when you've not needed to claim insurance. It just adds an extra cost, which in these expensive times, could be used elsewhere, surely? We certainly hope you don't need to ever file a claim, but we also know that's not how life generally works.
Also, travel can be costly; the thought of adding another expense may encourage you to decline it, but insurance is not as expensive as you might think.
Perhaps your company already provides some level of insurance already and that's great; however, additional insurance, like that provided by Insured Nomads, can help fill in the gaps in coverage your company insurance may be missing.
The cost of travel insurance
If you're uncertain of the cost and the value of travel insurance, you can always get a quick quote. You'll only need to answer four simple questions.
Who do you need insurance for (individual/family)?
How old are you?
How long will you be traveling?
What is the deductible amount ($0-$500) you prefer to pay?
For example, a 58-year-old individual traveling for 10 days with a $500 deductible may only pay $99.90 from Insured Nomads. If the same person selects $0 deductible, the cost increases to around $133. Would you say your health, safety, and property are worth that?
For that low cost, you can feel secure in the protection travel insurance provides.
Travel insurance protects your health
24-Hour Emergency Medical Care
COVID-19 Coverage
Acute Onset of Pre-existing Condition
Emergency Dental Treatment
Travel insurance ensures your safety
Local Ambulance Transport
Natural Disaster Accommodations
Evacuation & Repatriation
Adventure & Marine Sports Coverage
Travel insurance protects your property
Lost Luggage
Cell Phone Coverage
Travel insurance protects your comfort
Flight Delay Lounge Access
INC Membership App of Value-Added Services
Protection beyond insurance
As if that's not enough, Insured Nomads goes beyond insurance and beyond costs. They put you ahead of the bottom line by providing what no one else does—12 months of additional, non-insurance, value-added benefits, regardless of how long your coverage, from one week to one month.
1 week coverage = 12 months value-added benefits
1 month coverage = 12 months of value-added benefits
You get the point! This comes with the unique INC Membership.
INC Membership
Why would they do this? Well, Insured Nomads was created by world travelers for world travelers with the conviction that global citizens deserve better coverage. Their purpose is to make traveling as safe and smart as staying at home.
Consider the INC Membership app your travel buddy, providing comfort, health, security, and community tools at your fingertips to help you feel safe and connected when far from home.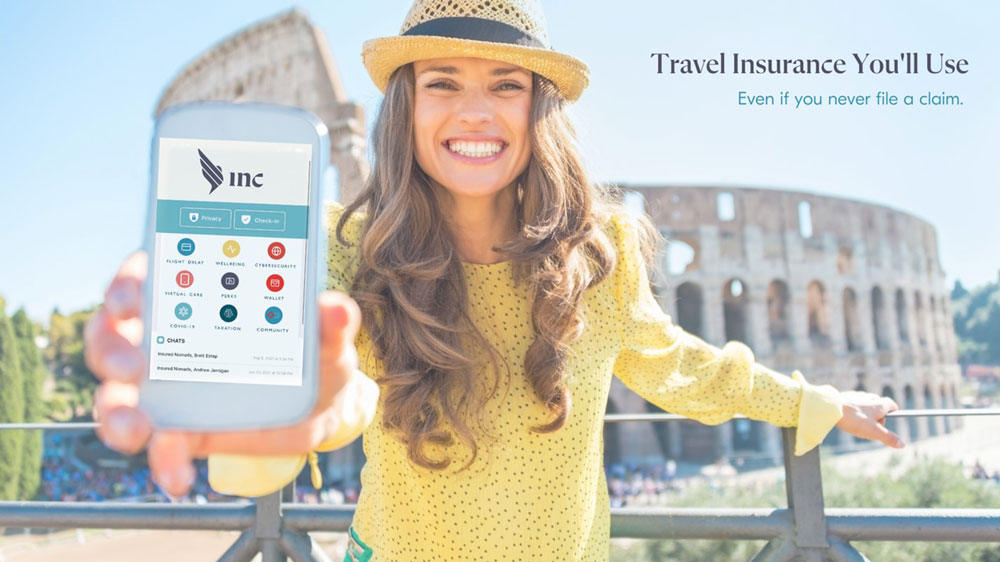 How you get INC
The INC Membership app is free for 12 months when you purchase an insurance policy. It is also available separately.
How INC works
Simple. Download the INC app to your phone and register using your member ID.
What INC provides
Health benefits
Mental health support in multiple languages
Telehealth
Tool to connect to doctors worldwide
Security benefits
Cybersecurity & privacy tools
Emergency CARE button (Crisis Assistance Response & Evacuation)
21 Types of travel alerts
Comfort benefits
Airport lounge access
Taxation information
Access to perks & discounts
Travel alerts
Using geo-location, the travel alerts inform you of events that could impact your travel, such as the following:
Protests that restrict your route
Political unrest that compromises your safety
Weather and natural events that cause delays
Holidays that affect your leisure time
Traveling in the COVID era
Travel insurance plans from Insured Nomads are equipped with benefits that protect you in the event of sudden medical emergencies, including those caused by COVID-19. They protect you from financial hardship in the event you contract or test positive for COVID-19 while traveling and provide you with peace of mind that you won't be abandoned or left to navigate the uncertainties alone.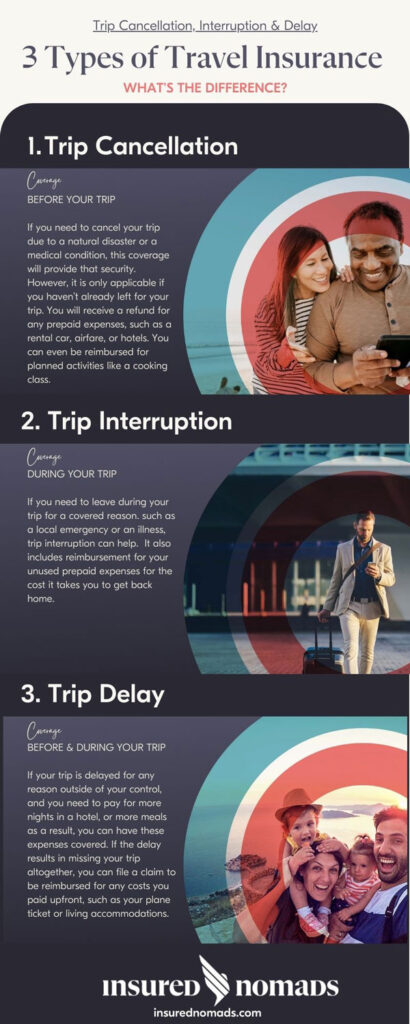 Protection for the big and the small
It is not just major events and catastrophes that can disrupt our plans. More frequently, it is the smaller events that throw in the biggest wrenches.
Insured Nomads offers protection for the big and the small. For instance, Trip Interruption Insurance provides you with reimbursements for travel expenses like your airline tickets, cruise ship boarding pass costs, train tickets, and other pre-paid travel-related expenses should you not be able to embark on your planned trip or vacation.
There is also trip cancellation and trip delay insurance. All three are outlined in the image on the left.
Now, more than ever, we must begin our adventures across the globe with the assurances offered by travel insurance.
Explore the plans from Insured Nomads. While there, check out their blogs about travel insurance and other travel topics.
Have fun but be prepared for that next great adventure. Save a seat on the plane, bus, train, or ship for Insured Nomads, because, with them, you never travel alone.
‍Sponsored article from Insured Nomads