Staying connected with family
After moving abroad, everything changes – and sometimes, even family dynamics do, too. After settling in, some families grow closer, others further apart. We have found that at Quantum Learning SuperCamp, kids almost universally tell us that their family comes first. So we step it up and help students see the importance of communicating effectively, putting down devices (yes, really!) and staying connected or reigniting family bonds with a sibling or a far-away parent.
7 relationship-building techniques
Following are seven relationship-building techniques you can use to create what we like to call, "Family Focus Time".
1)  Pick a time when all family members can spend 30 minutes or so together at home without devices at the ready. The family activity can vary week to week, but a few options include:
Reading from a book (for example, if you have a trip planned, read information about your destination)
Discussing a topic of interest to the family (such as planning a weekend outing, a project around the house, or a joint volunteering opportunity), or
Playing a board game together
2)  It's also useful to plan some family focus time away from home, whether it's a family hike/walk, a picnic in the park, or, taking part in a joint activity such as volunteering.
3)  While planning these ventures is usually a good idea, using the surprise factor every once in a while helps add to the fun and bonding value of a family activity. At SuperCamp, we call it a "pattern interrupt." As the term suggests, it involves breaking the pattern, in this case, of your family's normal daily routine. It can be as simple as telling everyone to pile in the car to go for an ice cream.
4)  Another family focus technique is to create "conspiracies." We often don't think of a conspiracy as a good thing, but in this context, I'm suggesting that two or more family members conspire to do something special for another family member. The reason for the conspiracy doesn't really matter; perhaps you feel someone in your family could use a show of appreciation, that's reason enough. And the conspiracy itself? Maybe do someone's chore for them – always appreciated!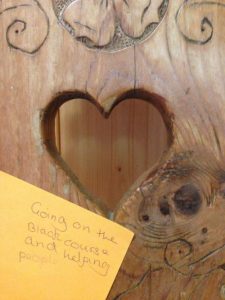 5)  Of course, you don't need to conspire to show your appreciation within the family. Try setting up an "acknowledgement board". It's where anyone can post a note acknowledging another family member, for a success, an attempt, a kind deed, or for just for being them. At SuperCamp, we create little pockets on the board for each camper – it's incredible how much the kids enjoy posting a note of appreciation to one another. At home, you make one for each family member to stuff with some warm words of appreciation, encouragement, or a simple thanks. Imagine how good a feeling it is to come home and have an acknowledgement waiting for you.
6)  Along the same lines, I encourage you to celebrate each family member's successes, no matter how small. Providing positive feedback not only encourages repeat behavior, it reinforces the family bonds. Celebrating with a special dessert or a family trip to the movies gets everyone in on the congratulations.
7)  At SuperCamp and in schools, we use an Affinity Exercise: It's a technique you can try on occasion with your family. Have everyone choose a partner. Have one person in each pair respond to these statements:
Tell me something I don't know about you.
Tell me something you like about me.
Tell me something we have in common.
In response to the answers, the person doing the asking can only reply with a "Thank you." After one person asks the three questions, it's the other person's turn and the process is repeated.
Sponsored article from Bobbi DePorter, Co-Founder Quantum Learning Network / SuperCamp
One idea for your "family focus time" is to sign your family up for the 8 Keys of Excellence family program. It's a no-cost program available through my non-profit organization, Learning Forum International.
The program shows families how they can apply all of the seven bonding techniques discussed above, while learning the eight character principles that comprise our 8 Keys of Excellence – foundational pillars for building a fulfilling life with integrity, balance and harmony. It's an eight-week program that requires only about 20 minutes of the family's time each week.
Sign up at www.8Keys.org.
To find out more about SuperCamp worldwide, check out supercamp.com and for SuperCamp Italy (the only program in Europe), visit https://supercampitaly.com and for more teen resources, visit testaalta.org
Helping kids get ahead