What to do on arrival in a new country
The plane's landed, you've found the taxi rank and are on your way to your new home. The initial exuberance of surviving the flight along with actually being in this place you've dreamed about for so long will surely keep you going for a while. But, once the dust has settled, you'll probably be wondering, what now?
What should you be doing in those important first few hours, days and weeks to ensure both you and your child enjoy as easy a transition as humanly possible? Where should your focus be, and how should you spend your time together? Here's our guide on what to do when you first arrive in a new country.
1) Know how to handle an emergency
The very first thing you need to take care of, before even thinking about opening that suitcase, is getting your head around the emergency services in your new place. Write down all the numbers you might need in an emergency, and brief your child on what to do in the event of a fire or accident. Find out more about being prepared for emergencies here.
2) Sort out all the essentials
You'll need to make time over the coming weeks to make all those crucial arrangements you'll need to live happily in your new country. From checking visa situations to registering for school and medical services, don't expect to get all this done on day one of your arrival, but keep it on the radar until everything is resolved. There's a great list here of the things you'll need to sort out pretty soon after you've touched down in your new home.
3) Make the house feel like home
One of the best ways to settle both yourself and your family into your new place is by taking the time to make your new house a home. Hopefully you've got a few spare days before you launch into your new job, so take a little time to sort out belongings and add those all-important familiar touches to help everyone feel a little more settled. Discover some excellent tips on turning your new house into a home here.
4) Help your child feel at home
Prioritise your child's comfort if you can. Take the time to sort out their room properly, so that they can find their favourite toys, clothes and books with ease. Bring some familiar comfort foods along too, so that they can at least start out by eating what's familiar to them. Some more great advice on settling in your child can be found here.
5) Expect the unexpected
Sometimes, no matter how hard you try, not everything goes according to plan. A stray crate of possessions, an unexpected illness or a problem with your accommodation can all spring up to wreck your carefully laid plans. The best defence against such unwanted disaster is to expect the worst but hope for the best. Have a plan B, keep things in perspective and try not to worry about things before they have happened! Here's a story about what can happen when things go wrong.
Arriving in a new country is going to be challenging for everyone, but try to remember to relax, breathe and take each day as it comes. If things don't seem to be going well one day, shake it off and try again the next day, and soon you'll all be loving your new life.
How to prepare for your arrival in a new country eBook
Use these lists before you leave, so you can choose which items to pack in your luggage.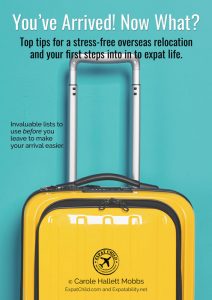 The tips and tricks in this eBook will ensure you're ready to hit the ground running in your new home country, and help you and your family's smooth transition to expat life.
Advice on what to pack for your first days, important points to note for immediate arrival, plus expert tips on how to organise UNpacking day, and more!