Books about moving and living abroad
I know you like reading because you come here and told me in a poll once! Although I have a (very!) few videos on YouTube and more that were in The Expatability Club before I closed and re-branded that (I'm thinking of ways to redistribute them, by the way), I am a writer, first and foremost. And by extension, a reader. There's nothing quite like a good book.
Whether you're looking for a practical lifestyle guide to help you to forge ahead with your plans, a journey through emotional intelligence and well-being to help you overcome negative feelings, or just an entertaining read to nurture your sense of adventure and bring the world alive, there's a book out there, written by or for expats, that's idea for you.
To get you started I've put together this list of books to read before you relocate overseas, all of which have been recommended by members of my own expat community – Expatability Club Chat on Facebook.
I should note that I have not been paid to endorse or advertise these books; they are genuine recommendations from me and other expats. If you should click through to my Amazon Influencer Shop link at the end of the article and purchase one, I will get a few pennies via the Amazon affiliate thingy, so thank you in advance 😊
'Expat Women: Confessions – 50 Answers to Your Real-Life Questions about Living Abroad', by Andrea Martins
The title rather gives away the topic of this book… written in an almost problem page format, it covers 50 common topics, questions and problems raised by expats and draws on the real-life experiences of women who have been there, done that and got the t-shirt. The format makes it easy to navigate and you can pick and choose the subjects that are most relevant to you at the time of reading. The topics covered include – but are not limited to – leaving family behind, transitioning quickly, building intercultural relationships and creating the right work-life balance… so some of the trickiest problems we expats face.
The questions are dealt with empathetically and the advice shared is designed to help and guide – it doesn't tell you to 'pull your socks up and get on with it' it tells you how to go about doing that and how to find the support that you need.
'Career in your Suitcase – A Practical Guide to Creating Meaningful Work…Anywhere' by Jo Parfitt
Expats need a truly mobile career and that's what this book is all about – finding something that you're passionate about, that suits your skills and that you can do from anywhere in the world, so you'll never be tied down. Starting at the beginning, the book has practical exercises that help you identify your strengths and weaknesses, so you can find out what you're good at and narrow down your career choices. It then goes on to guide you through the tricky world of networking, self-marketing, personal brands and self-employment, all whilst learning a lot about yourself and your own ambition.
There are ample opportunities along the way for self-reflection and self-analysis. If the dream is to work for yourself from a mobile office, then this guide could help you to refine your ideas and start moving in the right direction.
'Thriving Abroad: The definitive guide to professional and personal relocation success', by Louise Wiles
This book is for those of you who are considering taking an international assignment with an employer. It's a practical guide which draws heavily on the experience of practised expats and assignees, so it's loaded with real life advice and things to look out for. It covers a wealth of areas including professional, personal and family considerations and covers topics like decision making, planning, relocation, settling and finally thriving, so you'll find something for every step of your journey.
The book is written from the perspective of a perfect relocation following two different case study couples, covering the experiences of both the relocated employee and the trailing spouse. It explores emotional, behavioural and practical angles, covers the psychology of an overseas move and ends with a list of useful references for further reading and learning.
'The Emotionally Resilient Expat – Engage, Adapt and Thrive Across Cultures', by Linda Janssen
Combining candid and powerful real-life stories from expats who have struggled with psychological tools to overcome many of those struggles, this book is an in depth look at the way the mind works and how mindfulness, stress management and self-care can be used to improve emotional resilience and influence more positive transitions. Do you know the difference between adapting, adjusting and accepting?
If you are feeling stressed, disconnected or overwhelmed then this book may offer you the methodology and the brain-body theory to understand and rationalise your feelings and begin to repair them.
'Once Upon An Expat', by Lisa Webb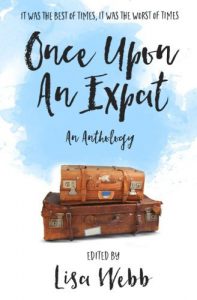 With a title that suggests whimsical story-telling, this book is more of an entertaining read than the others; focusing less on solving problems than on sharing some of the highs and lows of expat life – and firing up your sense of adventure. From the streets of Libya to a hospital in Kazakhstan, the story telling is rich and varied, with a collection of short stories contributed by a diverse group of enterprising women travelling the word, many with children in tow.
Some of the stories are touching, others are thought provoking, and some are just pure entertainment but the one thing they have in common is that each one is unique and offers a wealth of hidden information.
A great resource for anyone curious to find out more about the expat lifestyle and for those wanting the comfort of knowing others have been there and seen, felt and experienced the same things.
You can purchase these and other recommended books via my Amazon Shop . If you do, I will earn a few pennies, for which I thank you – every little counts!
Please choose either the UK Amazon or the US Amazon option below.