Books about TCKs (Third Culture Kids) and Expat Children
In a previous article I recommended books that provide general guidance for expats and expat life. So, what we need now is a list of go-to resources for expat parents, because when you're travelling with your children in tow it becomes a whole new ball game.
Raising children in a globally nomadic lifestyle is hard work, full of hidden pitfalls and often stressful – but it's incredibly rewarding too. You're giving your child an edge like no other – cultural understanding, multilingual communication and an open-mindedness that surpasses the norm for their age groups.
Here are my favourite titles, recommended by my expat community, to help you make the most of your unique experiences.
The books mentioned below provide guidance, support and tips for expat parents. And as in my other expat book recommendation post, these are genuine recommendations from me and from members of the Expatability Club Chat on Facebook. I have not received any financial incentive to advertise these.
If you should click through to my Amazon link at the end of the article and purchase one, I will get a few pennies via the Amazon affiliate thingy, so thank you in advance 😊
'Third Culture Kids: The Experience of Growing Up Among Worlds', by Ruth E. Van Reken, David C. Pollock and Michael V. Pollock
The concept here is that globally mobile children, or Third Culture Kids (TCKs) spend so many of their formative years travelling that they form their own unique third culture. The book explores the challenges (rootlessness and grief) alongside the positives (confidence and enhanced interpersonal skills) that these children frequently experience, challenging the traditional concept of 'home' and expanding on the benefits of a TCK experience.
Readers and reviewers frequently say that this book has helped them to make sense of their experiences and has given them back a sense of identity. Written in the style of a self-help book it can be a somewhat weighty – but ultimately valuable – read.
'Raising Global Nomads: Parenting Abroad in an On-Demand World', by Robin Pascoe
Early in her career as an expat parent, Robin Pascoe wrote the iconic book 'Culture Shock! A Parent's Guide' – which she now acknowledges, as the world moves forward so quickly, is a little out of date. The world has become smaller – globalised and digitalised with all communications available on demand and the ability to connect to anyone, anywhere in the world at the click of a button. At the same time, sadly the world has also fallen prey to more terrorism.
Parenting styles across the globe have changed and this updated guide for expat parents, Robin explores some of these new issues. Based on her own experiences it is a sympathetic and practical examination of the challenges faced by traditional expat families with one working parent, a trailing spouse and one or more third culture kids.
'Misunderstood: The impact of growing up overseas in the 21st century', by Tanya Crossman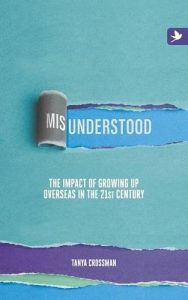 The thing about being a third culture kid is that the effects are lasting. The lifestyle has an impact on you growing up, affects the way you interact with the world when you return to your 'home' culture and influences the way you function and raise your own children as an adult.
Combining the stories and experiences of hundreds of TCKs, Misunderstood, is a resource for expat parents, older TCKs and adults who were once TCKs, helping them to make sense of their feelings and the ongoing impact in their adult lives.
Written in a style that aims for wisdom and compassion, it's certainly not all about the negatives and explores in some depth both the challenges and the unique joys TCKs frequently face.
'Emotional Resilience and the Expat Child: Practical Storytelling Techniques That Will Strengthen the Global Family' by Julia Siemens
Moving away from the self-help guides and the personal accounts, this book by Julia Siemens is a workbook, with exercises for globally nomadic families to work through together, facilitating a stronger family bond and helping children to reach their full potential through increased emotional intelligence. The concept is to begin to create your own family's 'emotion stories', which give children a voice and allow them to explore their thoughts and feelings in a safe, supported way.
Based on genuine expat experiences and written in a sensible, straightforward way, these exercises are simple for any family to complete and will help to create a broader emotional vocabulary that will then support your child in achieving self-expression. Being able to identify key emotions is a valuable tool for any child, and then going on to communicate them in words and pictures provides an outlet for many of the frustrations commonly experienced.
'A Parent's Guide to Raising Kids Overseas (Volume 1)', by Dr. Jeffery A. Devens
"Being an effective parent isn't about being perfect; it's about being intentional". Dr Jeffery Devens is a psychologist and counsellor, with more than 22 years' teaching experience in the international school community, so this book is a resource for parents, fellow counsellors and educators on the issue of TCKs.
It tackles some weighty issues, including the appropriate use of social media, the need for greater responsibility and independence, mental health concerns, alcohol misuse in teens and how to facilitate the child in making sensible age-appropriate choices.
A book filled with real life examples and well thought out advice based on years of practical experience, this is a definitive guide to intentional and engaged parenting which has supported many parents and professionals dealing with third culture kids.
You can purchase these and other recommended books via my Amazon Shop .
If you do, I will earn a few pennies, for which I thank you – every little counts to enable me to keep these websites up and running!
Please choose either the UK Amazon or the US Amazon option below.