What to leave behind when moving overseas
One of the greatest difficulties that you may face when moving abroad is deciding exactly what you want to take with you when you go.
In the case of moving with children, this difficult decision can be made even more complicated; once your child has grown fond of their belongings it can be a struggle for them to leave anything behind. Some families find this an uphill struggle, when it comes to your children's toys, where exactly do you draw the line and say "No more"?
Toys and treasures
First of all, besides clothes, you should take a look around their room and decide which items, no matter how small, cannot be replaced.
For example, more than one mover has been (politely, but firmly) informed that any Christening gifts or teddy bears from elderly relatives should be treated more as if they were priceless family crystal. After you have sorted the once-in-a-life-time valuables, try and arrange items by their monetary worth. For example, would a toy be more expensive to ship or replace?
Larger toys, such as giant teddy bears, unless you can afford it, are probably better left in the UK or with a family member until a time when you can get it to your new home. Of course, when it comes to toys, charity shops just love taking in second hand items, so instead of binning them, find your nearest charity shop to drop them off at.
Keep in mind that your belongings may arrive sometime after you yourselves have landed in your new home – so bear in mind those items that your child would miss keenly if separated for a few weeks and try to pack them in hold or hand luggage instead.
Furniture
If you want to know how much it costs to ship an item of furniture, you can use arithmetic to work out how much it is going to cost.
By measuring all three dimensions in inches, multiplying them together and dividing the result by 1728, you can work out the cubic capacity of an item.
Now, the cost of shipping varies from company to company, but if you work on £4.50 per cubic foot, you should be able to get a rough estimate.
From this equation, you can work out whether it is easier or cheaper to take your piece of furniture or buy a new one on the other end of your journey. If you're not able to rely on a company such as John Mason, who have overseas removals experience, be as efficient and take as much care as you can with your packing.
But can your child's favourite bicycle go too?
If you happen to be moving to countries with strict import regulations such as Australia and New Zealand, your items may have to undergo important tests so that they do not bring unwanted life forms to the country.
Items that are often associated with the garden, such as bikes and play sets will often have come in contact with insects, seeds and even soils that could be prohibited and lead to your items being refused entry to the country or quarantined.
With this in mind, if your child really can't bear to part with their favourite bike or garden game, a thorough two hour clean and disinfect session could well be worth the elbow grease.
On the other hand, items made out of natural materials such as wicker and cane chairs will likely be subject to a thorough examination; often resulting in extra charges. At the end of the day, you're best off leaving this kind of item behind.
Be aware though, that while there are some hard and fast rules on this issue, the ultimate decision in any inspection could well be down to the sole judgement or discretion of the customs inspector.
If you are unsure or require further clarification, you can contact the Australian or New Zealand Customs or The Ministry of Agriculture for either country.
Sponsored post by John Mason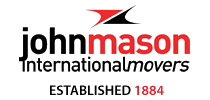 John Mason International are a national and international removals company in the UK. With 125 years of experience John Mason International are professional and dedicated to ensuring your relocation goes smoothly.