The impact of expat life on learning
One of the biggest worries for any parent choosing to move their family overseas is how will this decision affect their children's ability to achieve academically. All over the world, a good education is paramount to success, but how can we ensure our children get this when the country we are moving to may not uphold the same values as our native nation would?
In some ways, a foreign education can be a blessing to our children, as they will gain breadth and different knowledge which their peers at home will be missing out on. But what about the things they do not gain? Should we be worried that this education is different from that which we know back home, and how will we ensure they can slot back into society if and when they decide to return to their native country?
[x_pullquote type="left"]Your child may learn about the Romans three times, but never know how to work out percentages![/x_pullquote]If you move regularly from country to country, you need to make sure that some sort of continuity of education can happen. Otherwise, your child may learn about the Romans three times, but never know how to work out percentages! If you know you will return to your home country while your child is still of school age, try to work out what stage of their education they are likely to be at, because school admissions can sometimes be tricky during crucial exam years.
The answers to these sorts of questions are neither clear, nor easy, but with a little foresight we can at least weigh up the pros and cons of taking our children abroad, so that we go into our move with informed and open eyes.
The disadvantages
A change in curriculum
Moving to a new school can be tough, as they may have covered material your child has not, putting them on the back foot when it comes to mutual knowledge. Moving to another country can exacerbate this problem, meaning they are exposed to completely alien curricula and topics which never featured in their school back home. It doesn't necessarily mean it's bad or unworkable, just that the settling in period will be that much more difficult and potentially somewhat longer.
Depending on the number of years your child has already attended school, this may be more or less of a problem. One way to avoid the potential for repeating, or missing, subjects is to choose a school that runs the International Baccalaureate programme which was created as a solution to this problem.
Social and cultural differences
Making new friends is always tough, but trying to make new friends among people who have been brought up entirely differently, have different interests and potentially speak a different language is exponentially harder for our children to cope with. Over time, these things can become easier, as they get used to your child, and your child gets used to them. But in the short term, don't expect much learning to be happening, as much of your child's energy will be focused on social acceptance.
The benefits
New challenges, new skills
Expat children typically face an array of new skills and knowledge to be acquired before they can truly fit in with their new social group. Challenging it may be, but these trials will equip them with the skills and knowledge that will set them apart from other job applicants later on in life. Their breadth of experience and knowledge acquisition will become a highlight of their lives as they mature into well rounded adults later on.
Language and culture
Children soak up new language and cultures like a little dry sponge. They are so much better at adopting the customs and language of the places they visit; you'll soon find you're asking them what something means or why someone is behaving in a certain way. Sure, it's not the three 'R's we've become accustomed to at home, but surely this is learning at its most natural and greatest, in the way it should always be done?
Changing school is always a stressful time for a child of any age, and when that school change comes with a complete change of lifestyle, peer group, language and other life elements, we should expect the settling in period to be long and probably hard.
Don't panic that you've done the wrong thing by your child… they will settle in and will love you for this challenge, albeit probably some years into the future!
Do you want some help and advice about choosing a school for your child?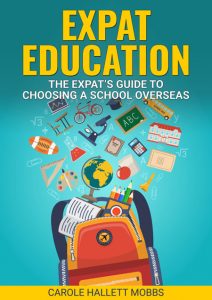 Choosing the right school for your child is one of the hardest decisions you'll make as an expat parent when moving abroad. 
There are many education options around for expats, and so much depends on your individual family set-up and child that there is no 'one-school-fits-all' solution. Each child is different and each country's school system is different, even within the 'generic' international schools. Also, families differ in their requirements and aspirations, and even relocations vary greatly. What worked well for you all in one country won't necessarily be replicated in your next move.
It's easy to get very stressed at this point. Don't panic! I've written this book to help you kick-start your search for the best type of school for your child. Now available on your local Amazon.
[x_button shape="rounded" size="regular" float="none" href="https://www.amazon.co.uk/Expat-Education-Expats-Choosing-Overseas-ebook/dp/B07L9J8C17″ target="blank" info="none" info_place="top" info_trigger="hover"]Buy from Amazon UK[/x_button]