Your Relocation Journal – the ultimate moving overseas checklist!
Let's face it – moving house is a tricky experience. Moving to a completely different country… well, there's just so much to sort out it can become overwhelming. The planning; just so much to sort out! Visas, removal companies, deciding what to take and where to live. How about schools for the kids? What are their options? Can the beloved pets come too? How many vaccinations will they need? And when? What about vaccinations for you? And so, so much more…
Make a list…
Oh my, the lists! Not long ago I found my original moving overseas check lists from when I moved to Japan in 2006. Well, I say 'list', I actually mean a box of assorted pieces of paper that obviously made some sort of sense then. Mind you, that is – or was – my life… until recently: Piles of lists scribbled on scraps of paper and several notebooks. There was actually a kind of organisation to my chaos and I could find information when needed, but with a couple of nosy kittens around this year, who delight in playing with paper, something had to change.
I've tried apps; I've tried online lists; I've tried using a single notebook to keep my notes together, but nothing worked efficiently. Or rather, it didn't work for me.
I need lists – my memory is appalling and has a tendency to flit. A lot. And, it seems I need to hand write my notes.
And then it happened. I read about something called a Bullet Journal®. With a tag line of  'The analog system for the digital age' it seemed to fit my needs perfectly. And besides, it gave me, a hopeless stationery addict, an excuse to buy a beautiful new notebook. Finally, I feel like I am organising my life. Transferring my random, scrappy lists into my lovely new book gave my brain space to come up with an idea…
I made a special Relocation Journal, just for you!
The Moving Overseas Journal from ExpatChild
What is a Bullet Journal®?
A Bullet Journal® is a mix of a to-do list, a diary, a notebook and a journal, all in one beautiful book. It's a flexible and efficient way to organise all your tasks, information, and ideas in one place; Yes, one place! Something that's really important in the chaos of moving house. You can make lists, note appointments and special dates, track day-to-day activities as well as long-term goals, and much more.
What's so special about the ExpatChild Relocation Journal?
It's a brilliant aid to an organised, systematic and tidy life – and when you're moving to a new country that is exactly what you need. As well as plenty of space for you to create your own notes, I've included 12 highly specialised pages, particularly aimed at people moving house (and it can be used for a domestic move as well as an international relocation). As well as a very tailored moving checklist, there's a calendar that can be used in any year, space for important contacts and other relocation dedicated information.
You can buy it right now by clicking on the link below:
How to use your Moving Overseas Journal / Planner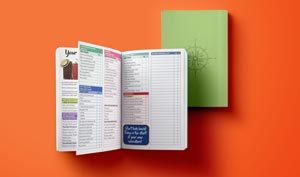 The good news is we're all different and there isn't necessarily a right or wrong way to go about it. This is your guide; your inspiration and ultimately your best friend.
The idea of the journal is that you use it to organise daily, weekly and monthly tasks, to keep lists of things that are important to remember and to stay on track for major life changes. And you're coming up to one of those, aren't you?!
The original Bullet Journal website sets out how it can be used, but exactly how you use it is a matter of personal choice; but here are our top tips for successful organisation…
Keep your index as a living, breathing document. Update it frequently so you know where to find things you've written; don't try to pre-plan where things will go (you'll drive yourself insane!)
Make daily entries and try to keep them organic – don't sit down at a prescribed time and write everything for the day. Instead, open your journal and write things as and when you think of them. To-do lists, yes, but also little things to remember, small triumphs, appointments etc. Try using a different symbol for different categories – a box for something that needs doing, a tick for something you achieved, a heart for a memory and a circle or a spiral for a random thought, these work well for us.
Learn to migrate (yes, we know that's your end goal but we're talking about tasks this time!). At the end of each week quickly flip back though the previous 7 days and migrate any tasks that didn't get done to the new week. Don't beat yourself up about them. If they're important, prioritise them now; if they're not then just plan to get them done as and when and keep them moving; you'll get there eventually.
Check out the Moving Abroad Checklist in the book! I've already done all the hard work for you in this bit and it even has its own index to help you keep on top of it all. Keep it up to date and mark off the tasks you've achieved. It's surprising how much a visual reminder of what has been done helps to control your stress levels.
Treat yourself to a nice pen. Yes, that sounds like a minor detail but I find it helps. A journal that is full of scratchy scribbles, made with a pen that has clearly seen better days, is an uninspiring place. You need to love your journal. It will become your go-to place for all your thoughts, hopes, fears and plans.
Collections. These are lists of things you want to achieve and tick off. Some people make lists of books to read, places to visit, recipes they want to try etc… I suggest creating collections of things that will genuinely help you to organise your move. Like items you need to buy for example. Tick each one off as you buy and store it and add to your collection as you think of more essentials. And there you go – you have organised shopping trips!
Monthly vs weekly planning. Some bullet journals work best organised by month but when you're undertaking something huge – like moving to another country – we strongly suggest weekly organisation. Start your week on a fresh page with the day and date at the top. On that first page, make a list of the days of the week and insert any appointments, important events etc. Then every day just pick up where you left off. You don't need a fresh page for every day, just a new day and date title.
Don't read too many bullet journal guides. That, my friend, truly is the path to madness! There are so many different ideas on how to keep them, how to organise them, what should go in them…that it becomes almost impossible to see a clear way forward. Relax and do your own thing with the journal's framework to help you keep up to date.
We hope you'll enjoy using our Relocation Journal and that it will help to keep your journey as stress free as possible.
Remember to keep it simple. All a bullet journal is, when you break it down to basics, is a little book of ideas, lists and inspirations written by you and for you. It's not a competition. No one is judging your creative, artistic or organisational ability. Just write whatever is helpful to you and nothing more. Have fun!
Perhaps you know someone who is due to move abroad soon. What an excellent gift for them… Visit the shop and get yours now!